Austrian Airlines Business Class
I just returned home from the most incredible week exploring Austria, visiting the cultural capital of Vienna and exploring the mountain towns of Sölden and Innsbruck. It's safe to say that Austria lived up to expectations and I can't wait to return already. Getting to Austria from North America proved to be really easy with Austrian Airlines offering direct non-stop flights from cities across the United States and out of Toronto for those that live north of the border, here in Canada, like me.

Flying with Austrian Airlines is an experience in itself, it's almost as if you step foot in Austria the second you step on the plane, as you're greeted by charming staff dressed in bright red uniform wearing a welcoming smile.
I was sat in seat 05D from Toronto to Vienna and seat 07A from Vienna to Toronto, both great seats. The 1-2-1 configuration on the 767 that Austrian flies on this route allows couples to sit together in the middle seats and solo travellers to take the window seats, all seats have direct aisle access so there's no disturbing anyone if you want to get up.

Equiped with seats that turn in to a fully lie-flat bed, a 15 inch touchscreen TV, high quality noise cancelling headphones, a thick and comfortable blanket and large pillow, I knew I was going to be in for a relaxing journey to Vienna and back. A great amenity kit was handed out to me when I sat down, with plenty more amenities in the bathrooms if needed.

A welcome drink was given on the ground and before I knew it, I was in the air and on my way to Vienna. A hot towel refreshed me, followed by a delicious glass of Austria Red Wine and then dinner followed not long after. DO & CO cater for Austrian Airlines, known for their world class catering, I was very excited about dinner. A menu had been distributed earlier in the flight and after a short while, Austrian's 'flying chef' greeted everyone and took their order. The food was beautifully presented and tasted even better. Everything but the main dish was plated at your side which was a great touch to the experience.
One of the most unique services onboard Austrian Airlines is the 'Coffee house in the sky'. I'm a huge coffee fan, and despite needing some sleep right away, I ordered from their coffee menu, gulping down every last drop of the delicious cup they made for me. Before I knew it, my eyes were sleepy and the staff offered to come and make my bed for me, I settled in and slept like a baby for about half of the flight.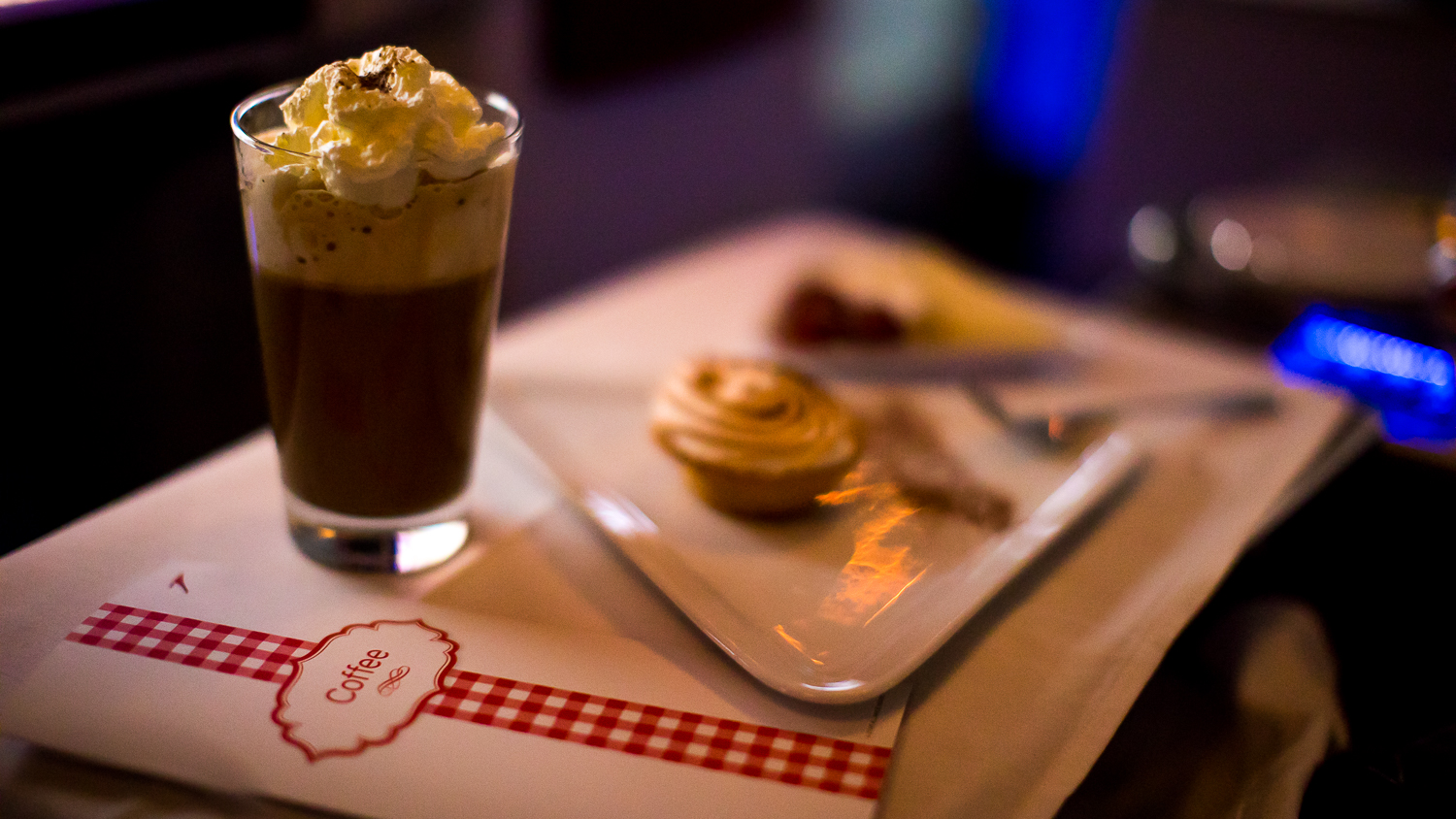 I woke to the smell of breakfast and coffee, and after another hot towel to refresh me, breakfast was served and just as delicious as dinner. Ninety minutes later and I found myself disembarking and making my way to immigration then on to collect my suitcase.
Austrian Airlines deliver such a high level of service onboard and provide a cultural experience in the air before you've even landed at your destination and their business class cabin is extremely comfortable, head over to www.austrian.com if you're considering a trip to Austria in the near future!

Read about my Austrian Adventure HERE